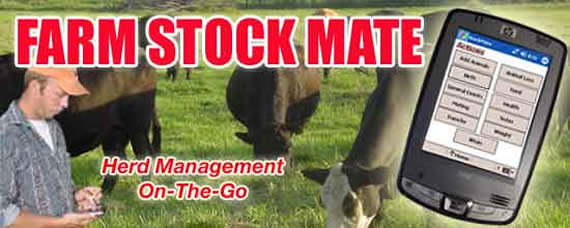 Farm Works is excited to announce the release of Stock Mate. This program will install to any pocket pc or laptop running Windows 95 or higher. Stock Mate will take the pain away from entering records on the desktop computer. Just take your Pocket PC with you to the barn or pasture and enter records as you go. It is that simple!
Product Features:
Gives you a portable data-entry solution for herd management records.
Integrates with Farm Stock (required) to provide you with a complete herd management package.
Unlimited animal types, such as cattle, dairy, pigs, horses, and sheep, can be tracked.
Easily add new animals to your farm stock records.
Enter information on health, weight, birth, mating, transfer, wean, service, animal loss, and feed records.
View detailed history records of each animal.
Quickly monitor information on expected due dates, vaccination reminders, pregnancy checks, and other calendar events.
Integrates herd management records into cost analysis package if user has Farm Funds and Farm Stock.
Compatible with selected NLIS RFID readers.
Pocket PC/Laptop sold separately.
Screenshots
(Click to view larger image)